Mediterranean Highlights And The Fjords, 35 Nights
on Queen Mary 2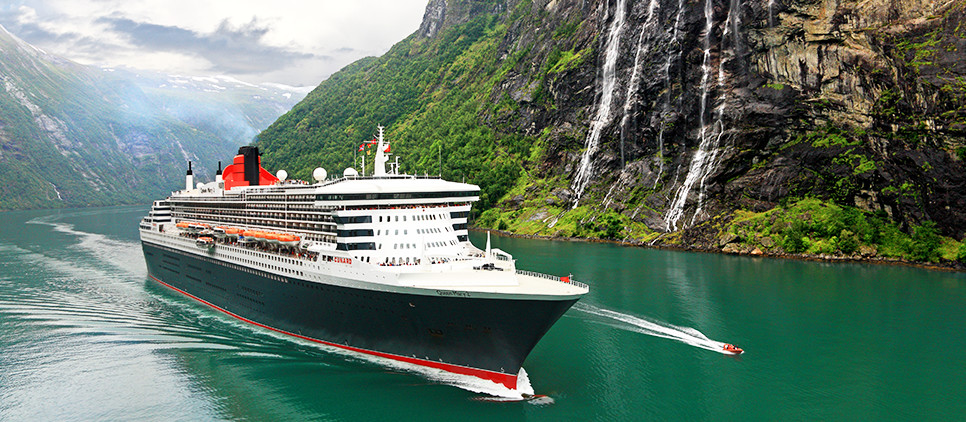 You'll cross the Atlantic twice on this roundtrip Transatlantic voyage from New York, with time ashore in Norway's captivating fjord towns, and sun-drenched days to explore in the Mediterranean.

For over 180 years we have set the bar, and then raised it. Our rich history and unrivaled seafaring knowledge means that Cunard has grown into a truly iconic brand. A brand that constantly refines the definitive experience of ocean travel.
From 2024 we will be sailing with a fleet of four Queens: Queen Mary 2, Queen Victoria, Queen Elizabeth, and the brand new Queen Anne. This means that over the years, we will have sailed a staggering 249 ships to the four corners of the world.
...
| Day | Port | Arrive | Depart |
| --- | --- | --- | --- |
| 1 | New York, New York | | 5:00 pm |
| 2 | At Sea | | |
| 3 | At Sea | | |
| 4 | At Sea | | |
| 5 | At Sea | | |
| 6 | At Sea | | |
| 7 | At Sea | | |
| 8 | London (Southampton), England | 6:30 am | 5:00 pm |
| 9 | At Sea | | |
| 10 | Stavanger | 8:00 am | 5:00 pm |
| 11 | Olden, Norway | 9:00 am | 7:00 pm |
| 11 | Innvikfjorden, Norway (Cruise-by) | 7:30 pm | 9:00 pm |
| 11 | Nordfjord, Norway (Cruise-by) | 9:00 pm | 10:30 pm |
| 12 | Andalsnes, Norway | 8:00 am | 5:00 pm |
| 12 | Romsdalsfjord, Norway (Cruise-by) | 5:30 pm | 7:30 pm |
| 13 | Bergen, Norway | 7:00 am | 3:30 pm |
| 14 | At Sea | | |
| 15 | London (Southampton), England | 6:30 am | 5:00 pm |
| 16 | At Sea | | |
| 17 | Vigo, Spain | 9:00 am | 6:00 pm |
| 18 | At Sea | | |
| 19 | At Sea | | |
| 20 | Barcelona, Spain | 8:00 am | 6:00 pm |
| 21 | Marseille, France | 7:00 am | 5:00 pm |
| 22 | Florence/Pisa (Livorno), Italy | 7:00 am | 7:00 pm |
| 23 | Rome (Civitavecchia), Italy | 7:00 am | 7:00 pm |
| 24 | At Sea | | |
| 25 | At Sea | | |
| 26 | Seville (Cadiz), Spain | 7:00 am | 6:00 pm |
| 27 | At Sea | | |
| 28 | At Sea | | |
| 29 | London (Southampton), England | 6:30 am | 5:00 pm |
| 30 | At Sea | | |
| 31 | At Sea | | |
| 32 | At Sea | | |
| 33 | At Sea | | |
| 34 | At Sea | | |
| 35 | At Sea | | |
| 36 | New York, New York | 6:30 am | |